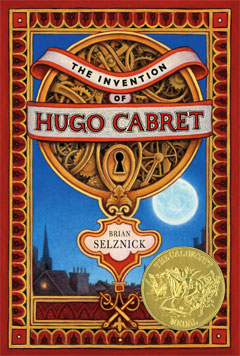 In the Paris of the 1930's, a young boy lives alone in a cramped roof apartment in a train station, where he tries to escape notice and desperately works to continue his father's legacy. Hugo faces complications along the way, however, in the form of a nosy, bossy girl and a grumpy, secretive old man. Can Hugo evade his fears and complete his task?
The Invention of Hugo Cabret was an interesting, beautifully illustrated graphic novel with warm themes and a cold situation. The character of Hugo was beautifully portrayed in an array of soft lead sketches and words. He is a quiet, determined, intriguing boy who is driven to be evasive and intelligent enough to get his way in most situations. His lonely situation makes you feel sorry for him often. He is an admirable character.
I was captured by the illustrations and story line of this graphic novel. The mixture of "stills" (the pictures) and words organised into chapters made for a complimentary set up- particularly for this story. I enjoyed the mystique and the classic Audrey-Hepburn-feel that the setting and old movie references and stills thoroughly and couldn't wait to see what answers would come from Hugo's project. It is a quick read, however, and you would get more out of it if you concentrate on the pictures. Try not to be tempted to just flick through them all.
I reccommend this book as a short read for anyone who can read fluently.
My Rating: 4/5